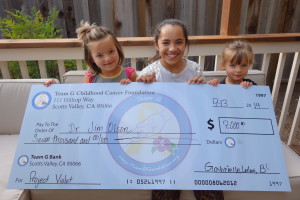 "Our girls Super Sib Leilani, Survivor Gabriella and
Super Sib Bridget signing one of the checks"

"It's here. It's finally here. The day I've been waiting for and the day we've been working so hard for the last couple of years has finally come. We are doing it. We are making our first official donation as Team G Childhood Cancer Foundation....$19,000 total. And I am ecstatic.
From the very first day we walked into Lucile Packard Children's Hospital, I remember every bit of the way I felt that day. It brought me to my knees….literally…. I felt as if a train had run over me….backed up….and went forward again and again…and again. My breathe was gone and I was so weak, I could hardly make it through the doors. The doors with a huge sign atop reading "The Bass Center for Childhood Cancers and Blood Diseases". What? How? Why? No…no…no…
It can't be. How could our lives lead up to this? How could we be bringing our beautiful 4 year old daughter here? I couldn't understand it. I didn't want to believe it. But the road that lie in front of us at that time was unknown, and frightening.
Childhood cancer brought me to my knees. But it would. Not. Take. Me. Down. Cancer would have to fight…hard. And we would fight back with every ounce of our being. After a year of …hell, glory, pain, agony, positivity, bonding, and all of the above, we triumphed. Gabriella triumphed. She is now a survivor.
We had been on the path for Gabriella's health and now we are continuing on the path to find health for every child stricken with cancer. Every day, every damned day I read about another child's battle, another child who's stuck in a hospital room when they should be playing outside, another family's loss, and another angel gaining their wings. And it motivates me. Even more, it blazes the fire. I have got to put it out. I have got to do something. Damn it. Damn you cancer for showing yourself. Damn you for taking little dreams and incinerating them. Damn you for taking away parents from their children to fight their child's battles, to fight other children's battles and to try and raise funds for the unacceptable lack of funding for our children.
This is our way and this is the time that We. Will. Fight. You. We will join forces and never stop fighting for these kids who deserve more! I sit here filling out the checks that our treasurer and fellow cancer mom, Claudia, and I am overcome with pride, gratitude for those who helped us get here, and just plain overwhelming emotion. We've already made a few donations to childhood cancer research via Cookies for Kids' Cancer and Alex's Lemonade Stand…but there is something so different about this.
In retrospect, it is a small drop in the bucket. I wish it was more. I wish it was 100x more. But it's just the beginning. And we will prevail. This will help. Every little bit helps."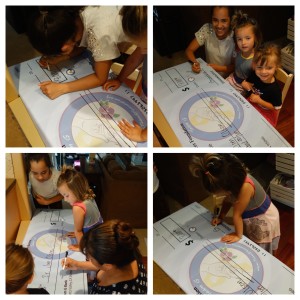 "Our survivor and super siblings...in honor of our Angel Tianna"
– Kristin Cosner, Founder and CEO
Lucile Packard Foundation for Childrens' Health
Dr. Michelle Monje - Donation $3,000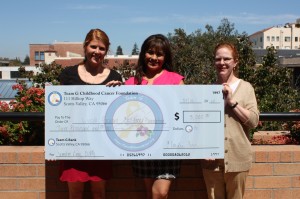 Jennifer Witte, Claudia Cisneros (Team G Chief Financial Officer) and Erin Breese

Treatment advances for DIPG have been stagnant for 35 years, said Monje, who treats DIPG patients atLucile Packard Children's Hospital, where she was Dylan Jewett's doctor. The cancer primarily affects children ages 5 to 9, striking 200 to 400 children per year in the United States and killing quickly. Radiation therapy offers temporary remission, but patients soon relapse; just one victim in 100 survives five years. No effective chemotherapy drugs exist, and, because the malignant cells entwine themselves with healthy cells in a region of the brain stem essential for life, surgery is impossible. The disease takes away control of basic body functions such as talking, swallowing and moving one's eyes or limbs, but leaves victims aware of what is happening as their condition declines.
Dr. Kathleen Sakomoto - Donation $6,000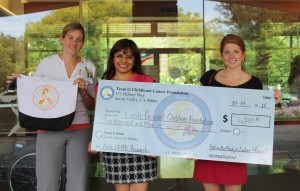 Tovah LeWinter and Jennifer Witte with Claudia
In a healthy person, when the body makes abnormal cells or cells become old, the body's scavenger cells, called macrophages, eliminate them in a process defined as programmed cell removal. When a person has cancer, the abnormal cells are not eliminated by the macrophages. Researchers under the leadership of Dr. Irv Weissman discovered that pediatric brain tumor, leukemia, bone tumor and neuroblastoma cells overproduce a cell surface protein known as CD47. The overproduction of CD47 on cancer cells tells macrophages "don't eat me," allowing the disease to progress. The members of Dr. Weissman's team have successfully tested an antibody to block the "don't eat me signal" in a variety of cancer cells and in animals. The CureSearch grant will support this research team in conducting a Phase I clinical trial at the Lucile Packard Children's Hospital at Stanford University. Their study will test whether anti-CD47 monoclonal antibody will decrease the size of tumors in children, by blocking the CD47 "don't eat me" signal and allowing macrophages to eliminate cancer cells.
Seattle Hospital Children's Foundation
Dr. Courtney Crane - Donation $3,000
Dr. Courtney Crane is pursuing therapies that use the immune system to wipe out brain tumors, without the devastating and often lifelong side effects of chemotherapy and radiation.
This immunotherapy approach has been shown to be effective in fighting leukemia and other blood cancers, but solid tumors have a unique ability to fly under the immune system's radar and avoid its attacks. For instance, the body automatically sends innate immune cells, such as myeloid and natural killer (NK) cells, to the area around a tumor. Once there, however, cancer cells can modify those immune cells to stop them from eliminating the tumor.
Crane's team is unraveling exactly how cancer cells disarm immune cells, with the goal of finding ways to reprogram those immune cells so they can elude cancer's defenses and destroy brain tumors, neuroblastoma and other cancers.
Dr. Jim Olson - Donation $7,000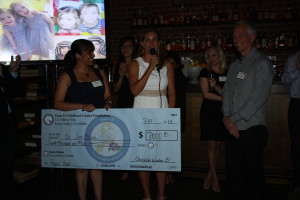 Project Violet's mission is twofold: to develop a new class of anti-cancer compounds derived from nature that will attack cancer cells while leaving healthy cells untouched. And to fund that drug development via crowdfunding, or as Olson calls it, "citizen science."
Project Violet researchers have already had one big success: tumor paint. A "molecular flashlight" derived from the DNA of the Israeli death stalker scorpion, tumor paint chemically adheres to cancer cells and causes them to light up. Thousands of times more sensitive than MRI imagery, tumor paint enables surgeons to easily distinguish between deadly cancer cells and the surrounding healthy tissue making tumors more operable. After nearly a decade of development, human clinical trials are about to begin and the possibilities may extend well beyond helping patients like Violet.
Team G Childhood Cancer Foundation wants to especially thank the following donors for directing their funds specifically to childhood cancer research.
Mamas' Night Out- Michelle Riddle and Cara Pearson
SC4T Cupcake Club
Steven John Crowley
Craig and Gretchen Parks
Diana & Daniel Cosner
Community Foundation of Santa Cruz County
Christine Armigo
Zachary & Brittany Smith
B Escalante
Lori from the JH Breakfast
Loretta Kuechle
Valerie Kippen
Gretchen Reynolds
Catherine Collins
Christopher Evans
Gienna Njie
Patricia Medina
Jim Young
Sasha McCrone
Deborah Loze
Julie Dijaili
Jules and Jeff Schwerdtfeger